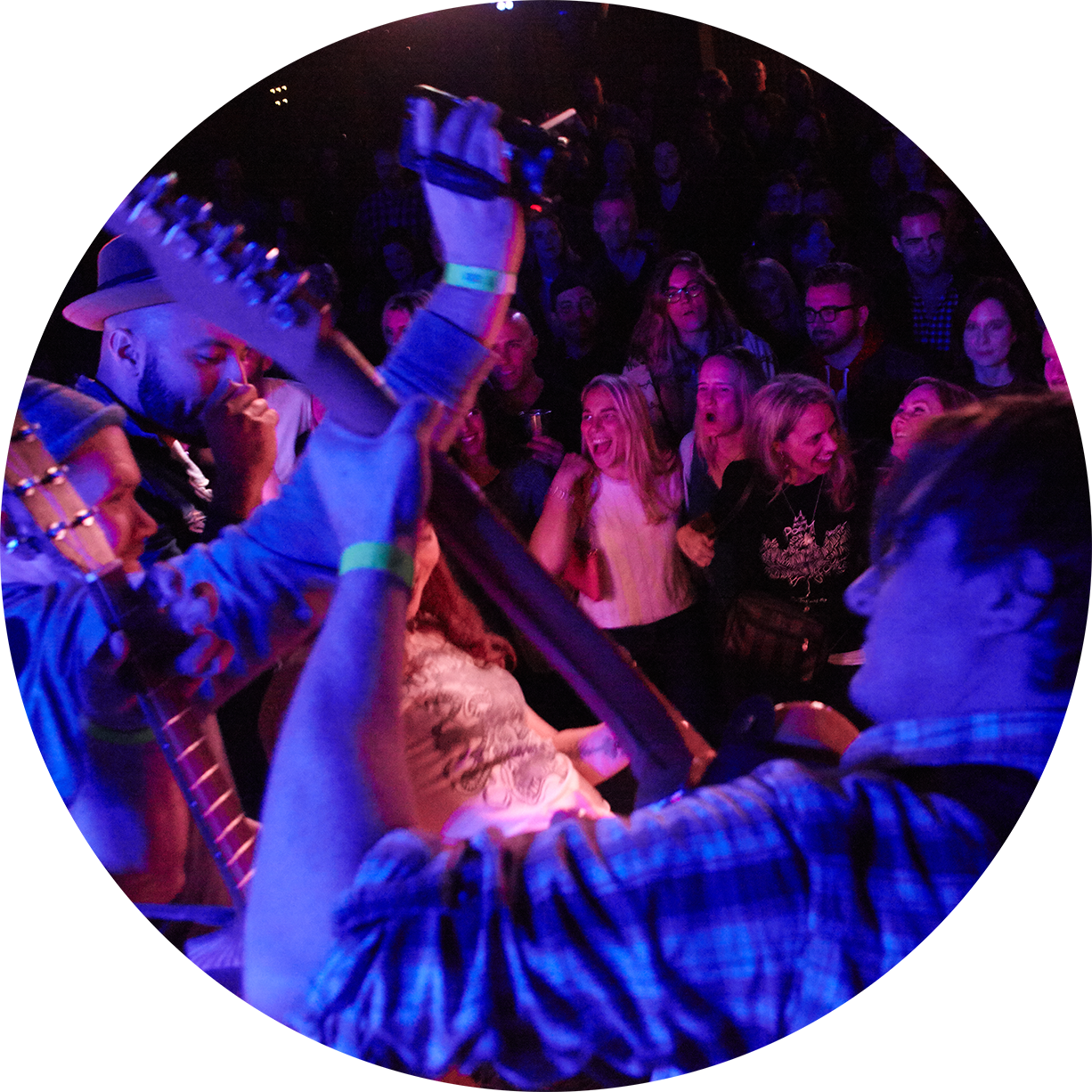 Ceol Kids: The concert where YOU pick the setlist!
Here we go again! The seventh annual Ceol Kids fundraiser for the Regent Park School of Music is underway! As always, nominate any song you want the incredible Ceol Kids band to play, then make a donation of any amount to help push it up the list. The top 25 songs on Saturday night, April 29th at midnight will be the songs we play at the show - Friday, June 2nd at the Mod Club!
See What New Songs Have Been Nominated!
posted by Julian, March 28th, 2017
Having a hard time picking a song to support? As the list gets longer, sometimes it's hard to see what new ideas have been added. Not anymore! Songs that have been recently added will be flagged with a 'New' icon. Add a tune and check it out!
Booked at the Mod Club - June 2, 2017
posted by Julian, February 22nd, 2017
Ceol Kids is excited to announce that our annual concert will take place at the Mod Club for the third straight year. Great room, excellent sound, why would we go anywhere else! Mark it on your calendar, the band is already getting pumped up to make this year the best show ever!
Almost $48,000 raised!
posted by Julian, February 22nd, 2017
In six events, Ceol Kids has raised a whopping $47,957.45 toward the Regent Park School of Music. So grateful to all our supporters for helping us contribute to this amazing school. You can see firsthand the incredible talent of the kids they teach at the End Of Year recital at the PaintBox Bistro (555 Dundas St. E) - on Thursday March 9 (no cover). You won't be disappointed, it's always a fantastic show!
Song
Band
Album
Donations
Listen/Promote/Support!
1. What To Do
The Rolling Stones
Aftermath (UK)
$225.00
2. Private Eyes
Hall & Oates
Private Eyes (1981)
$200.00
3. Turn Me Loose
Loverboy

Greatest Hits - the Re...

$100.00
4. Thriller
Michael Jackson
Thriller
$100.00
5. Dark Necessities
Red Hot Chili Peppers
The Getaway
$100.00
6. Blister in the Sun
Violent Femmes
Violent Femmes
$40.00
7. Red River Valley
Stevie Nicks and Chris Isaak
$25.00
8. When God Comes Back
All Them Witches
Lightning At The Door
$21.00
9. Down Payment Blues
AC/DC
Powerage
$20.00
10. Midnight Train To Georgia
Gladys Knight and the Pips
n/a
$20.00
11. Freedom '90
George Michael

Listen Without Prejudi...

$10.00
12. Two Princes
Spin Doctors
Pocket Full of Kryptonite
$5.00
13. (I've Had) The Time of My Life
Bill Medley & Jennifer Warnes
Dirty Dancing
$5.00
14. If It Feels Good Do It
Sloan
Pretty Together
$5.00
15. Spirits
The Strumbellas
$1.00
16. Push + Pull
July Talk
Touch
$0.00
17. Can You Hear Me Knocking?
The Rolling Stones
Sticky Fingers
$0.00
18. Just A Friend
Biz Markie
The Biz Never Sleeps
$0.00
19. London Calling
The Clash
London Calling
$0.00
20. Closing Time
Leonard Cohen
The Future
$0.00
21. Whole Lotta Rosie
AC/DC
Let There Be Rock
$0.00
22. Brick House
The Commodores
The Commodores
$0.00
23. Mass Romantic
New Pornographers
Mass Romantic
$0.00
24. Rebel Yell
Billy Idol
Rebel Yell
$0.00
25. El Matador
Los Fabulosos Cadillacs
Vasos Vacios
$0.00
26. You Can Do It
No Doubt
Tragic Kingdom
$0.00
27. Bad Reputation
Joan Jett
Bad Reputation
$0.00
28. Young Americans
David Bowie
Young Americans
$0.00
29. The Log Drivers Waltz
Wade Hemsworth

NFB Animated Canada Vi...

$0.00
30. Glory Box
Portishead
Dummy
$0.00
31. This Year
The Mountain Goats
The Sunset Tree
$0.00
32. The Tide is High
Blondie
Autoamerican
$0.00
33. Roadhouse Blues
The Doors
Morrison Hotel
$0.00
34. Welcome to Paradise
Green Day
Dookie
$0.00
35. Love Shack
The B52's
Cosmic Thing
$0.00
36. Think
Aretha Franklin
Aretha Now
$0.00
37. Bennie and the Jets
Elton John
Goodbye Yellow Brick Road
$0.00
38. Jackson
Johnny Cash and June Carter
Greatest Hits Vol 1
$0.00
39.

Sprawl II (Mountains Beyond Moun...

Arcade Fire
The Suburbs
$0.00