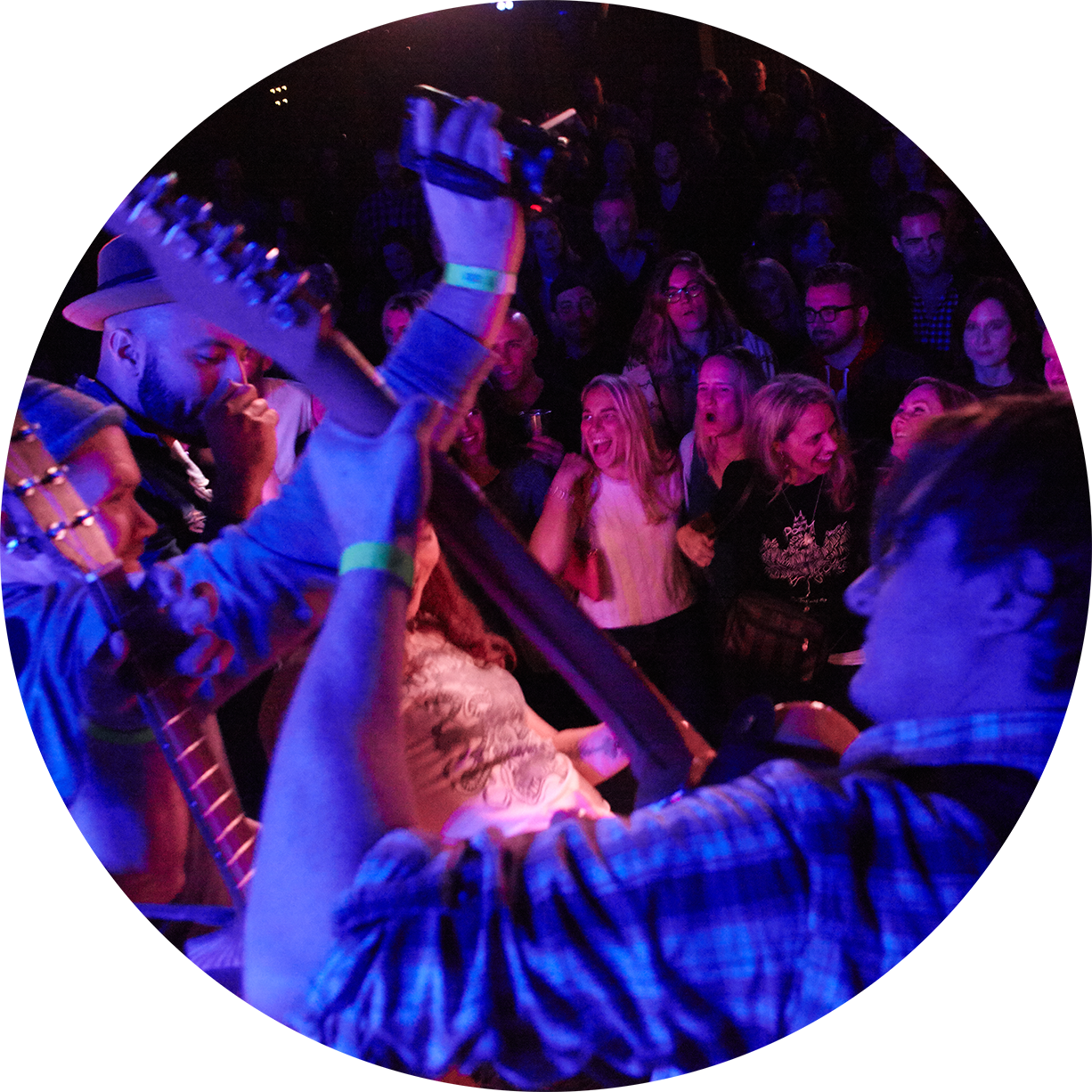 Ceol Kids: The concert where YOU pick the setlist!
Less than 4 days left in the donation drive!
The 9th annual Ceol Kids donation drive in support of the Regent Park School of Music is underway! Last year, you got us to perform the fantastic crowd pleaser 'The Power Of Love', the incredibly energetic 'Born To Run', and the hilarious 'Rasputin'. Oh, those Russians...Plus, we managed to raise almost $12,000.00 - bringing our total to just under $72,000 across eight events. Can't wait to see what's in store for us this year! We've raised $6355.10 so far, let's see if we can beat $10000!
Regent Park School of Music on BT!
posted by Julian, March 13th, 2019
Nicole Servinis from Breakfast Television visited the Regent Park School of Music to meet some of the amazing kids that are getting a music education from the school. Check it out to see the talent that your donations support!
Launch Party!
posted by Julian, March 2nd, 2019
Thanks to all who came out to the launch party last night! It was a great night of music with Red Zeppelin, Christian and the Sinners, The Whitetail Menace, and Old Men's Money. And special thanks to the Junction City Music Hall for hosting us, what a great venue!
Congrats to our contest winner!
posted by Julian, April 27th, 2018
Have you nominated a song for the Ceol Kids setlist, only to see it fall short by a few bucks? Well, Lynnette Gerber will not have that issue this time around! She is the lucky winner of our raffle at last year's show that got to pick a song for our setlist this year (Friday, June 1st, 2018, at the amazing Mod Club again) with no further donation necessary!. Lynnette has made the awesome decision of 'The Impression That I Get' by the Mighty Mighty Bosstones. So we'll be playing that as well!
Song
Band
Album
Donations
Listen/Promote/Support!
1. Them Bones
Alice In Chains
Dirt
$1,050.00
2. I Need Never Get Old

Nathaniel Rateliff & The Ni...

Nathaniel Rateliff & T...

$800.00
3. Synchronicity II
The Police
Synchronicity
$450.00
4. California Love
2Pac featuring Dr. Dre
Single
$405.00
5. If You Wanna Be Happy
Jimmy Soul
$375.00
6. Just
Radiohead
The Bends
$330.00
7. Losing My Religion
REM
Out of Time
$240.00
8. Bigmouth Strikes Again
The Smiths
The Queen Is Dead
$200.00
9. Jericho River
Christian D and The Sinners

The Perversion of Some...

$185.00
10. Money For Nothing
Dire straits
Brothers in arms
$126.00
11. Rosanna
Toto
Toto IV
$126.00
12. What Is Life
George Harrison
All Things Must Pass
$125.00
13.

There Is A Light That Never Goes...

The Smiths
The Queen Is Dead
$125.00
14. She's Kerosene
The Interrupters
Fight the Good Fight
$120.00
15. Save if For a Rainy Day
The Jayhawks
Rainy Day Music
$101.00
16. Guns of Brixton
The Clash
The Clash
$100.05
17. Barracuda
Heart
Little queen
$100.00
18. I Don't Want Control Of You
Teenage Fanclub

Songs From Northern Br...

$100.00
19. Gloria
The Lumineers
III
$100.00
20. Gimme Shelter
The Rolling Stones
Let It Bleed
$100.00
21. The Final Countdown
Europe
$100.00
22. Travelin' Band
Creedence Clearwater Revival
Cosmo's Factory
$90.00
23. Speaking in Tongues
Eagles of Death Metal
Peace Love Death Metal
$85.00
24. Theme from Cheers
Gary portnoy &Judy Hart-Angelo
$80.00
25. Lose Yourself
Eminem
8 Mile
$75.00
26. Don't Stop Me Now
Queen
Jazz
$75.00
27. Just A Girl
No Doubt
Tragic Kingdom
$60.00
28. Highway To Hell
AC/DC
Highway To Hell
$60.00
29. Signed, Sealed, Delivered
Stevie Wonder
$52.00
30. Peg
Steely Dan
Aja
$50.00
31. I Wanna Know What Love Is
Foreigner
Agent Provocateur
$50.00
32. Hole in the Earth
Deftones
Saturday Night Wrist
$35.05
33. Dreaming
Blondie
Eat to the Beat
$35.00
34. Younger Now
Miley Cyrus
Younger Now
$35.00
35. Creeping Death
Metallica
Ride The Lightning
$30.00
36. Edge of Seventeen
Stevie Nicks
Bella Donna
$30.00
37. Hot in Herre
Nelly
Nellyville
$25.00
38. Police and Thieves
The Clash
The Clash
$20.00
39. Fame
David Bowie
Young Americans
$20.00
40. Tonight, Tonight
Smashing Pumpkins

Mellon Collie and the ...

$18.00
41. Rosalita (Come Out Tonight)
Bruce Springsteen

The Wild, the Innocent...

$15.00
42. Telephone Call From Istanbul
Tom Waits
Frank's Wild Years
$15.00
43. YYZ
Rush
Moving Pictures
$15.00
44. I'm The Only One
Melissa Etheridge
Yes I Am
$10.00
45. Freak On a Leash
Korn
Follow the Leader
$7.00
46. Violet
Hole
Live Through This
$5.00
47. Going the Distance
Cake
Fashion Nugget
$5.00
48. The Singer Addresses His Audience
The Decemberists

What a Terrible World,...

$0.00
49. Shine
Take That
Beautiful World
$0.00
50. Detroit Rock City
Kiss
Destroyer
$0.00
51. Keep The Faith
Bon Jovi
Cross Road
$0.00
52. Out Ta Get Me
Guns 'n' Roses
Appetite For Destruction
$0.00
53. Hands All Over
Soundgarden
Louder Than Love
$0.00
54. The Warrior
Scandal
Warrior
$0.00
55. Your Ex Lover Is Dead
Stars
Set Yourself on Fire
$0.00
56. Smooth
Santana (feat. Rob Thomas)
Supernatural
$0.00
57. Big Bottom
Spinal Tap
This is Spinal Tap
$0.00
58. Home Sweet Home
Mötley Crüe
Theatre of Pain
$0.00
59. I'm The Only One
Melissa Ethridge
$0.00
60. Green Light
Lorde
Melodrama
$0.00
61. If It Feels Good Do It
Sloan
Pretty Together
$0.00
62. Don't Wanna Fall In Love
Jane Child
Jane Child
$0.00
63. Torn
Natalie Imbruglia
Left of the Middle
$0.00
64. Misirlou
Dick Dale & His Del-Tones

Music From The Motion ...

$0.00
65. Cannonball
The Breeders
Last Splash
$0.00
66. What's the frequency, Kenneth?
REM
Monster
$0.00
67. Save it for a Rainy Day
The Jayhawks
Rainy Day Music
$0.00