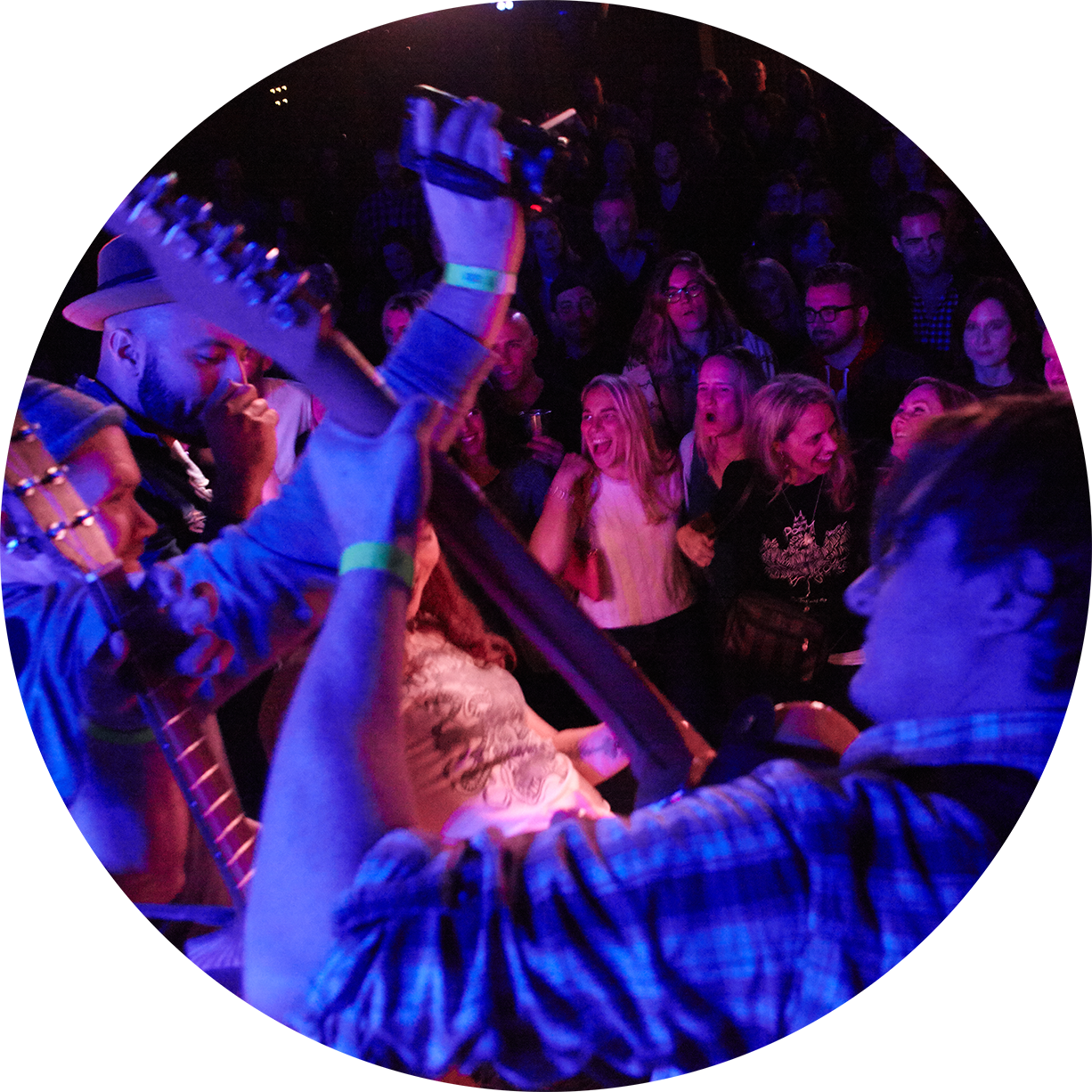 Ceol Kids: The concert where YOU pick the setlist!
Less than 2 days left in the donation drive!
The 8th annual Ceol Kids donation drive in support of the Regent Park School of Music is underway! Last year, you got us to perform the epic, 18-person version of 'Bohemian Rhapsody', the incredibly energetic 'Matador', and the bizarre but amazing 'Rock Me Amadeus'. Plus, we managed to raise a total of $13,058.41 - bringing our total to over $60,000 across seven events. Can't wait to see what's in store for us this year! We've raised $8084.87 so far, let's see if we can beat $10000!
Launch Party at the Garrison!
posted by Julian, March 3rd, 2018
We've got an awesome line up of bands to help celebrate the kick-off of the donation drive at the Garrison The Garrison on Saturday, March 3. Come check out the Noonans, Declan Nine, The Mandevilles, Little Foot Long Foot, and Christian and the Sinners. Music starts right at 8:30, don't miss any of these amazing bands.
Photos from the 2017 Concert!
posted by Julian, March 3rd, 2018
Some fantastic photos from last year's show are posted in our Facebook photo album. All photos taken by long time Ceol Kids member Eric Brazier. It was such a fun event, and it shows in the pictures. You do not want to miss this year's show, we're aiming to make it even better!
Congrats to our contest winner!
posted by Julian, July 20th, 2017
Have you nominated a song for the Ceol Kids setlist, only to see it fall short by a few bucks? Well, Lynnette Gerber will not have that issue this time around! She is the lucky winner of our raffle at the show on June 2nd that gets to pick a song for our setlist next year (Friday, June 1st, 2018, at the amazing Mod Club again) with no further donation necessary!. Want to be in Lynette's shoes for the 2019 show? We'll be selling raffle tickets again this year, don't miss your chance!
| Song | Band | Album | Donations | Listen/Promote/Support! |
| --- | --- | --- | --- | --- |
| 1. Born to Run | Bruce Springsteen and the E... | Born to Run | $1,310.00 | |
| 2. The Power of Love | Huey Lewis & The News | Greatest Hits | $820.00 | |
| 3. Everlong | Foo Fighters | The Colour and the Shape | $725.00 | |
| 4. O.P.P. | Naughty By Nature | Naughty By Nature | $600.00 | |
| 5. Moondance | Van Morrison | Moondance | $395.00 | |
| 6. Once in a Lifetime | Talking Heads | Remain in Light, 1980 | $320.00 | |
| 7. Know Your Rights | The Clash | Combat Rock | $280.00 | |
| 8. Red River Valley | Stevie Nicks and Chris Isaak | | $275.00 | |
| 9. London Calling | The Clash | London Calling | $255.00 | |
| 10. Brian Wilson | Barenaked Ladies | Gordon | $245.00 | |
| 11. Over and Over and Over | Jack White | Boarding House Reach | $225.00 | |
| 12. Refugee | Tom Petty and The Heartbrea... | Damn the Torpedoes | $210.00 | |
| 13. Square Hammer | Ghost | Popestar | $165.00 | |
| 14. Hunger Strike | Temple of the Dog | Temple of the Dog | $155.00 | |
| 15. Renegades of Funk | Rage Against The Machine | Renegades | $154.85 | |
| 16. Breakfast in America | Supertramp | Breakfast in America | $150.00 | |
| 17. (I Know) I'm Losing You | The Faces | | $126.00 | |
| 18. So Whatcha Want | Beastie Boys | Check Your Head | $117.00 | |
| 19. Rasputin | Boney M | Nightflight to Venus | $112.00 | |
| 20. It's the End of the World | REM | Document | $111.11 | |
| 21. Neon Knights | Black Sabbath | Heaven and Hell | $105.00 | |
| 22. Black Nite Crash | Ride | Tarantula | $105.00 | |
| 23. Elevator Love Letter | Stars | Heart | $100.00 | |
| 24. Around the World | Red Hot Chili Peppers | Californication | $100.00 | |
| 25. Rhumba Girl | Nicolette Larson | Nicolette | $100.00 | |
| 26. Too Good | Drake - Ft. Rihanna | Views | $100.00 | |
| 27. One Big Holiday | My Morning Jacket | It Still Moves | $96.80 | |
| 28. The Cask of Amontillado | The Alan Parsons Project | Tales of Mystery and I... | $86.00 | |
| 29. Hot For Teacher | Van Halen | 1984 | $75.00 | |
| 30. Macho Man | The Village People | Macho Man | $75.00 | |
| 31. Rocks Off | Rolling Stones | Exile On Main Street | $60.00 | |
| 32. Zombie | The Cranberries | No Need to Argue | $51.00 | |
| 33. Steal My Sunshine | Len | Can't Stop The Bum Rush | $50.00 | |
| 34. Tequila | The Champs | | $50.00 | |
| 35. Shut up and Dance | Walk the Moon | Talking is Hard | $41.11 | |
| 36. You Can Call Me Al | Paul Simon | Graceland | $32.00 | |
| 37. Like A Prayer | Madonna | Greatest Hits of Madonna | $30.00 | |
| 38. Funk #49 | James Gang | James Gang Rides Again | $25.00 | |
| 39. Happy Jack | The Who | | $25.00 | |
| 40. Waterloo | ABBA | Waterloo | $20.00 | |
| 41. We Built This City | Starship | Knee Deep in the Hoopla | $5.00 | |
| 42. All Because | Al Green | Gets Next To You | $2.00 | |
| 43. Brick House | The Commodores | The Commodores | $0.00 | |
| 44. Push + Pull | July Talk | Touch | $0.00 | |
| 45. Night Train | Tab Benoit | Fever For The Bayou | $0.00 | |
| 46. Sugar Walls | Sheena Easton | A Private Heaven | $0.00 | |
| 47. I Ran | Flock of Seagulls | Flock of Seagulls | $0.00 | |
| 48. Sister Golden Hair | America | Hearts | $0.00 | |
| 49. Boy In The Box | Corey Hart | Boy In The box | $0.00 | |
| 50. Little Sister | Queens of the Stone Age | Lullabies to Paralyze | $0.00 | |
| 51. Nautical Disaster | The Tragically Hip | Day For Night | $0.00 | |
| 52. Run To You | Bryan Adams | Reckless | $0.00 | |
| 53. Carry On Wayward Son | Kansas | The Best Of Kansas | $0.00 | |
| 54. We Are The World | USA for Africa | We Are The World | $0.00 | |
| 55. I Still Do | The Cranberries | Everybody Else Is Doin... | $0.00 | |
| 56. Today . | The Smashing Pumpkins | Siamese Dream | $0.00 | |
| 57. Gimme Shelter | The Rolling Stones | Let It Bleed | $0.00 | |
| 58. People are People | Depeche Mode | Some Great Reward | $0.00 | |
| 59. All Mine | Portishead | Portishead/Live in NYC | $0.00 | |
| 60. Come Together | Gary Clark Jr. and Junkie XL | Justice League Soundtrack | $0.00 | |
| 61. Monday | wilco | Being There | $0.00 | |
| 62. Too Close | NEXT | | $0.00 | |
| 63. Spoonman | Soundgarden | Superunknown | $0.00 | |
| 64. The Look | Roxette | Look Sharp! | $0.00 | |