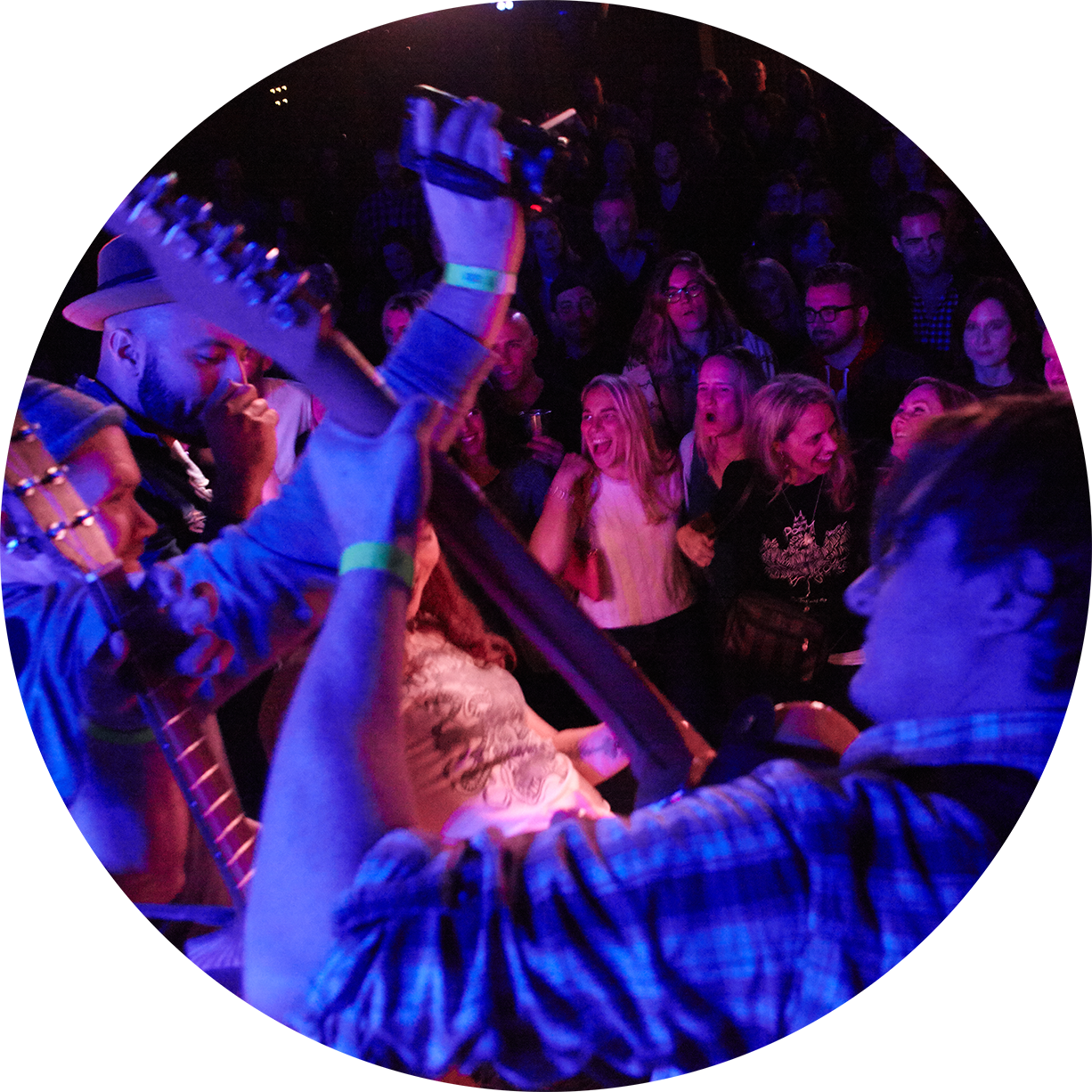 Ceol Kids: The concert where YOU pick the setlist!
Wow, what a great concert that was! The seventh annual Ceol Kids fundraiser for the Regent Park School of Music happened on Friday, June 2nd at the Mod Club, and it was the best show yet! Did you catch the epic, 18-person version of 'Bohemian Rhapsody'? The incredibly energetic 'Matador'? How about the bizarre but amazing 'Rock Me Amadeus'? It was an awesome night. And, we managed to raise a total of $13,058.41 for the Regent Park School of Music - the second year in a row that we've beaten $13,000. Can't wait for next year - June 1st at the Mod Club again! Start thinking about what songs you want to nominate/support - as always the top songs in terms of total donations collected make up the setlist!
Congrats to our contest winner!
posted by Julian, July 20th, 2017
Have you nominated a song for the Ceol Kids setlist, only to see it fall short by a few bucks? Well, Lynnette Gerber will not have that issue this time around! She is the lucky winner of our raffle at the show on June 2nd that gets to pick a song for our setlist next year (Friday, June 1st, 2018, at the amazing Mod Club again) with no further donation necessary!. Want to be in Lynette's shoes for the 2019 show? We'll be selling raffle tickets again this year, don't miss your chance!
The return of Master T!
posted by Julian, May 23rd, 2017
Master T is back! For the second year in a row, Master T of MuchMusic fame will be our host for the night. We're all really pumped to work with him again, last year was fantastic. Get your tickets now to reserve your spot!
Songs on the rise!
posted by Julian, April 12th, 2017
We've just added a new feature to highlight songs that have recently had donations added to their total! Look for the green arrow beside the donation total to see what people are backing. Not a fan of the tune? Bump something else up even higher!
On Friday June 2, the Ceol Kids band played all the tunes that you helped select for us by making donations! These are the songs that made it in:
Song
Band
Album
Donations
Listen!
1. Mama Said Knock You Out
LL Cool J
Mama Said Knock You Out
$620.00
2. Mahna Mahna
Cake
For the Kids
$500.00
3. Dark Necessities
Red Hot Chili Peppers
The Getaway
$475.00
4. Turn Me Loose
Loverboy

Greatest Hits - the Re...

$450.00
5. El Matador
Los Fabulosos Cadillacs
Vasos Vacios
$360.00
6. Schism
Tool
Lateralas
$350.00
7. Can't Stop
Red Hot Chilli Peppers
By The Way
$336.00
8. Rock me Amadeus
Falco
Falco 3
$321.00
9. Creep
Radiohead
Pablo Honey
$320.00
10. Private Eyes
Hall & Oates
Private Eyes (1981)
$311.00
11. Hells Bells
AC/DC
Back In Black
$300.00
12. Robots
Dan Mangan
Nice, Nice, Very Nice
$300.00
13. Starboy
The Weeknd
Starboy
$300.00
14. What To Do
The Rolling Stones
Aftermath (UK)
$300.00
15. Shout At The Devil
Motley Crue
Shout At The Devil
$300.00
16. Freedom '90
George Michael

Listen Without Prejudi...

$296.00
17.

I Bet You Look Good on the Dance...

Arctic Monkeys

Whatever People Say I ...

$295.00
18. Down
Harry Nilsson
Nilsson Schmilsson
$290.00
19.

There Is A Light That Never Goes...

The Smiths
The Queen Is Dead
$285.00
20. Where The Streets Have No Name
U2
The Joshua Tree
$283.00
21. Bohemian Rhapsody
Queen
A Night at the Opera
$278.00
22. Ghetto Superstar

Pras, featuring Ol' Dirty ...

Ghetto Superstar
$277.00
23. I Say A Little Prayer
Dionne Warwick
$275.00
24. Here Comes the Night Time
Arcade Fire
Reflektor
$273.00
25. Bombtrack
Rage Against The Machine
Bombtrack
$272.00
26. Can't Stop The Feeling
Justin Timberlake

Trolls: Original Motio...

$271.00
27. Blister in the Sun
Violent Femmes
Violent Femmes
$270.00
28. Simple Man
Lynyrd Skynyrd

(Pronounced 'Lĕh-'né...

$270.00
29. Crucify
Tori Amos
Little Earthquakes
$222.00
30. Whatta Man
Salt N' Pepa
Very Necessary
$205.00
31. Edie(Ciao Baby)
The Cult
Sonic Temple
$200.00
Sadly these songs fell a bit short for the 2017 show. Maybe you can try and get them in again at the next one!
Song
Band
Album
Donations
Listen!
32. London Calling
The Clash
London Calling
$190.00
33. New Sensation
INXS
Kick
$155.00
34. Night Train
Tab Benoit
Fever For The Bayou
$140.00
35. Thriller
Michael Jackson
Thriller
$131.00
36. My Heart Will Go On
Postmodern Jukebox
$125.00
37. War (what is it good for?)
Edwin Starr
War & Peace
$125.00
38. Jeremy
Pearl Jam
Ten
$120.00
39. Start A Fire
John Legend

La La Land (Original M...

$105.00
40. Radar Love
Golden Earring
Moontan
$100.00
41. Jump
Van Halen
1984
$76.00
42. The Impression that I Get
Mighty Mighty Bosstones
Let's Face It
$70.00
43. Shining Star
Earth Wind and Fire

That's the way of the ...

$66.00
44. Subdivisions
Rush
Signals
$50.00
45. Big Bottom
Spinal Tap
This is Spinal Tap
$50.00
46. Hallelujah
Leonard Cohen
Various Positions
$50.00
47. Wise Up! Sucker
Pop Will Eat Itself

This Is the Day...This...

$26.00
48. Red River Valley
Stevie Nicks and Chris Isaak
$25.00
49. The Tide is High
Blondie
Autoamerican
$25.00
50. Roadhouse Blues
The Doors
Morrison Hotel
$25.00
51. Lonely Boy
The Black Keys
El Camino
$25.00
52. Push + Pull
July Talk
Touch
$24.00
53. When God Comes Back
All Them Witches
Lightning At The Door
$21.00
54. Down Payment Blues
AC/DC
Powerage
$20.00
55. Telegram Sam
T Rex
The Slider
$20.00
56. Midnight Train To Georgia
Gladys Knight and the Pips
n/a
$20.00
57.

Sprawl II (Mountains Beyond Moun...

Arcade Fire
The Suburbs
$19.00
58. Welcome to Paradise
Green Day
Dookie
$18.00
59. Rebel Yell
Billy Idol
Rebel Yell
$14.00
60. Bad Reputation
Joan Jett
Bad Reputation
$12.00
61. Two Princes
Spin Doctors
Pocket Full of Kryptonite
$5.00
62. (I've Had) The Time of My Life
Bill Medley & Jennifer Warnes
Dirty Dancing
$5.00
63. If It Feels Good Do It
Sloan
Pretty Together
$5.00
64. Spirits
The Strumbellas
$1.00
65. Think
Aretha Franklin
Aretha Now
$0.00
66. Closing Time
Leonard Cohen
The Future
$0.00
67. Whole Lotta Rosie
AC/DC
Let There Be Rock
$0.00
68. 25 or 6 to 4
Chicago
Chicago
$0.00
69. Bennie and the Jets
Elton John
Goodbye Yellow Brick Road
$0.00
70. Mass Romantic
New Pornographers
Mass Romantic
$0.00
71. Jackson
Johnny Cash and June Carter
Greatest Hits Vol 1
$0.00
72. Brick House
The Commodores
The Commodores
$0.00
73. Lightning Crashes
Live
Throwing Copper
$0.00
74. The Singer Addresses His Audience
The Decemberists

What a Terrible World,...

$0.00
75. Learning to Fly

Tom Petty and The Heartbrea...

Into the Great Wide Open
$0.00
76. Glory Box
Portishead
Dummy
$0.00
77. Big Bang Baby
Stone Temple Pilots

Tiny Music...Songs fro...

$0.00
78. Slow Burning Fire
Skydiggers
Restless
$0.00
79. Volcano Girls
Veruca Salt
Eight Arms to Hold You
$0.00
80. This Year
The Mountain Goats
The Sunset Tree
$0.00
81. River
Leon Bridges
Coming Home
$0.00
82. You Can Do It
No Doubt
Tragic Kingdom
$0.00
83. Young Americans
David Bowie
Young Americans
$0.00
84. The Log Drivers Waltz
Wade Hemsworth

NFB Animated Canada Vi...

$0.00
85. Supernaut
Black Sabbath
Vol 4
$0.00
86. Losing My Religion
REM
Out of Time
$0.00
87. Can You Hear Me Knocking?
The Rolling Stones
Sticky Fingers
$0.00
88. All Because
Al Green
Gets Next To You
$0.00
89. Just A Friend
Biz Markie
The Biz Never Sleeps
$0.00
90. Let's Impeach the President
Neil Young
Living with War
$0.00
91. Love Shack
The B52's
Cosmic Thing
$0.00